Looking for an easy way to impress a homeowner and improve their outdoor space? When planning for and designing your landscape project, consider adding a water feature. Fountains and container water gardens are the perfect way to add a splash of water to any landscape. Affordable and easy to install, you'll find a variety of water features to give a homeowner's outdoor living space a unique look.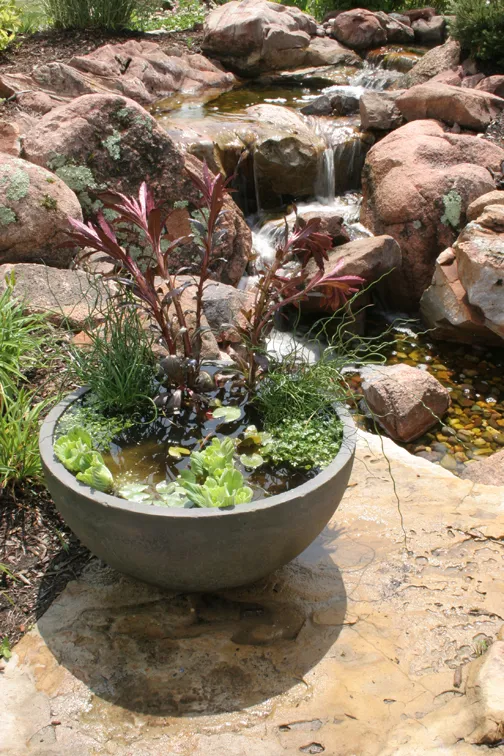 Miniature water gardens, also known as Patio Ponds, are becoming increasingly popular on patios and decks. These small-scaled ponds provide the opportunity to enjoy beautiful waterlilies in a variety of colors. You can even add small fish like Rosy Reds. Kids love watching the tiny fish swim and you can bring them indoors when winter rolls around.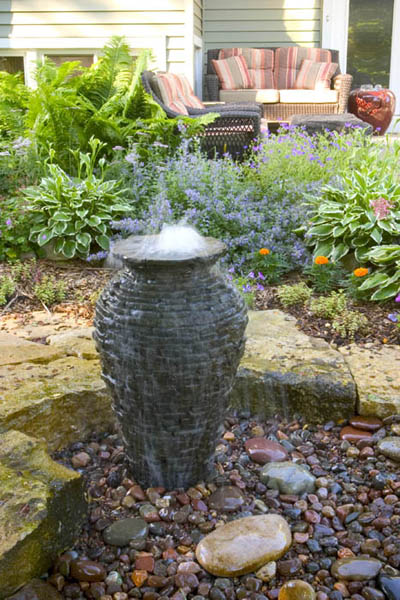 Refreshing fountains are popping up in yards all over the country as more homeowners look for unique ways to improve the curb appeal of their house. An underground reservoir holds the pump and water that recirculates through the fountain. You'll find a variety of fountain styles to suit your taste and budget.
The Stacked Slate Urn fountain does double-duty in this gorgeous front yard. Not only does it provide visual appeal, but it's connected to a rainwater harvesting system. Rainwater is collected from the roof of the house and stored in the fountain's 500-gallon reservoir. The homeowner accesses the stored rainwater to irrigate the surrounding gardens. This is a perfect option for those who live in areas of drought where outdoor municipal watering is either restricted or prohibited.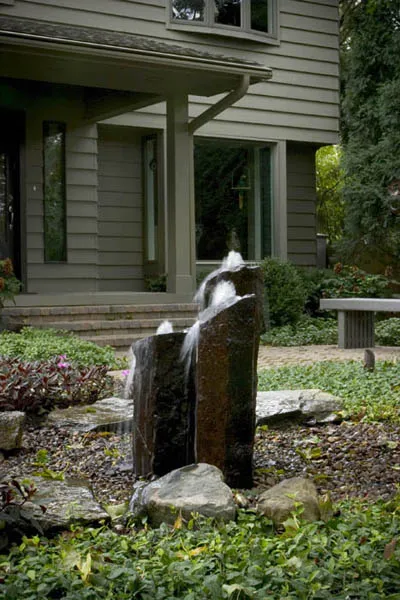 A trio of stone fountains welcomes visitors to this suburban home, adding to the home's value with increased curb appeal.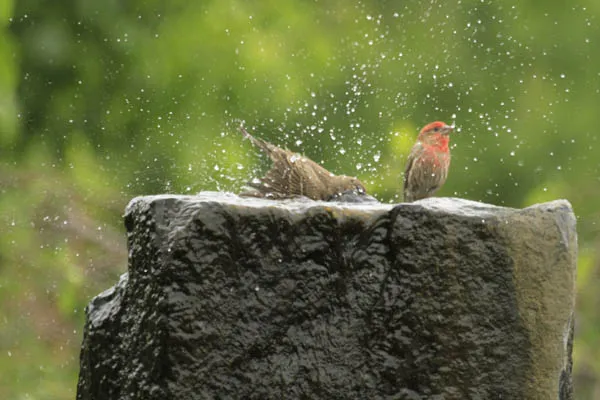 Birds and butterflies enjoy visiting outdoor fountains to enjoy a refreshing splash or nourishing drink.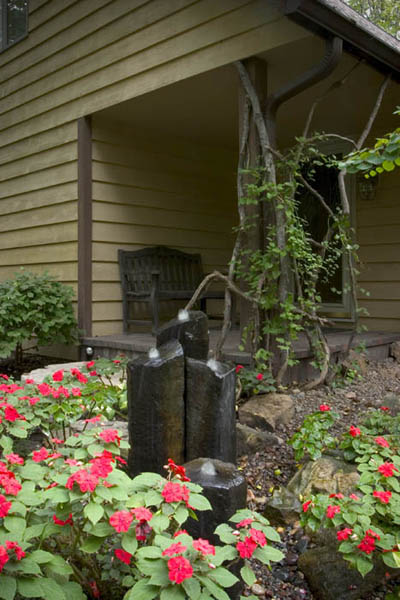 Fountains make a great accent piece for your flower beds. This grouping of natural rock fountains are the perfect, rustic complement to the dainty, colorful impatiens. Who wouldn't enjoy coming home to this beautiful scene?
You can turn any garden container into a fountain. Rather than tuck flowers into a large ceramic vase, why not transform it into a refreshing, bubbling urn?  You only need to add the plumbing, reservoir, and pump. Your fountain becomes the crowning touch to any corner of your landscape.
If you prefer something a little different, you might enjoy a series of bowls spilling into each other. This unique fountain is sure to delight friends and passers-by!
One of the fastest-growing trends in outdoor living features is the combination of fire and water. Our popular Fire Fountain creates a soft, pleasing sound of water as it flows over and around the pebbles. Fire adds a surprising element that looks great at night, too.
Water features are a god addition to any project. Whether a large pond or a patio feature, water features are a growing trend among homeowners. Contact your local WCC location for more information about Aquascape Water Features.