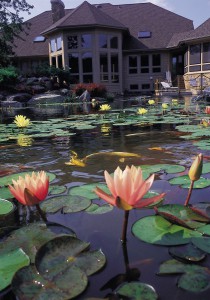 The site and sound of water can become a central focus of a landscape.  Varieties of water features are available for every scenario and budget.
Traditional water gardening involved a pond.  A few years ago pondless waterfalls were hot.  Pondless statuary and stones are the rage right now.
Many are incorporating water features directly into hardscape patios.  Another wrinkle is rain water retention.
Whatever the need, there is a divergent selection of water gardening product to make it happen.  We supply product from leading manufacturers and have a growing base of knowledge to help.
Water Gardening Quality Matters
Once installed, water features are a significant part of a landscape for a long time.  The quality of the installation means the feature fits well into the landscape, operates reliably, and is easy to maintain.
A good water garden is an artistic expression.  The best are custom-built so the water feature blends into the landscape as if it is a naturally occurring feature.
Rain Water Retention
Storage can be ponds, subterranean, or both.  Rarely can enough water be stored to irrigate the turf areas, but enough can be stored to irrigate planting beds and gardens.
Cities are being pushed to reduce run off water entering their sewage treatment networks.  Retaining on site for later release helps lower the peak demands on the sewage system during rain events.